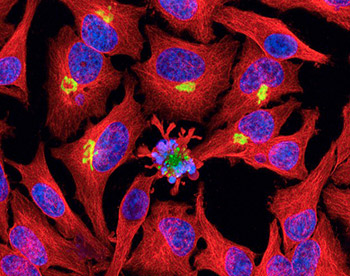 The last decade witnessed an enigmatic discovery that, apoptosis and the genes that control it greatly affect the malignant phenotype. While some oncogenic mutations disrupt apoptosis, leading to tumor initiation, progression or metastasis, others promote apoptosis, generating selective pressure to override apoptosis during multistage carcinogenesis. Intense research efforts are unraveling the underlying mechanisms of apoptosis, envisioning the use of this information to produce novel strategies of exploiting apoptosis for therapeutic effects.
On the other hand, necrotic cell death in a tumor is suggestive of a fast-growing cancer, and is also utilized as a prognostic marker in several carcinomas. Given the significance of tumor necrosis and apoptosis in cancer progression and treatment, it is imperative to understand the underlying mechanisms of cell death, and to distinguish between the two, for cancer therapy development.
Pyroptosis is characteristically inflammatory, and is triggered by various pathological stimuli viz., stroke, heart attack or cancer. Besides, it is vital in controlling microbial infections.
Understanding the relevance of these aspects in modern cell biology and oncology research, Stellixir delivers far-reaching validated assays for apoptosis, pyroptosis and necrosis.
Our Nuclear Signaling, DNA Damage, Cytotoxicity & Proliferation Assays Include
| | |
| --- | --- |
| Caspase assays (Caspases -1,3,5,7,8 & 9) | p53 expression studies |
| Annexin V/PI assay | DNA fragmentation assay |
| Mitochondrial depolarization assay | posphor-Akt (p-Akt) assay |
| Cytolysis assay | Bcl-2 assay |
| Cytochrome c release assay | PARP1 enzyme activity assay |
| Cell cycle and DNA damage analysis | NF-kB/p65 assay |
| Cyclin-dependent kinases (CDKs) analysis | Calpain activity assay |
| BAX assay | TUNEL assay |